Brands to Know: Undercover by Jun Takahashi
Let me start off by saying that I love Jun Takahashi and his brand Undercover. The clothes are some of the most unique and contemporary pieces out there. But, my love for Undercover goes much further than just the clothes. Jun Takahashi surrounds the brand with its own enigmatic world and mythology; a world of punk rock music, Renaissance art and a very strong desire to be rebellious.
One of the most attractive parts of Undercover is putting together the esoteric culture Takahashi has built around the brand. Even as an avid fan, I still don't know much about the brand. I know how Takahashi met Bape's Nigo at Bunka Fashion School and went on to open a store with Nigo called Nowhere. I know how Comme Des Garcon's Rei Kawubo took Takahashi under her wing and brought him to Paris, where he would eventually debut his first show. Yet, I still don't understand the obsession with these dolls known as "Grace" and the ridiculously overprice apple-shaped lamps known as "Gillapples." I don't really get why he released $344 action figures titled "Underman" along with his 2011 S/S collection under the same name.
For me, it doesn't matter what everything means though, because it all invokes a feeling of youth and angsty rebellion. It's all so out there and weird that you really can't comprehend the entirety of the vision behind the brand. Yet it remains attractive and desirable; In Jun's own words, Undercover is "strange, but beautiful."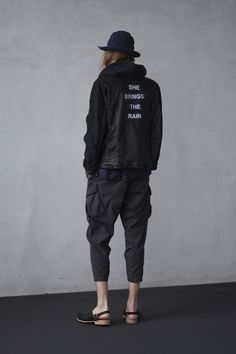 While Undercover's world may be unknown and elusive to most, Takahashi is unapologetic with his presentation. He never fails to make his inspiration for each season grounded in the familiar. His '15FW men's collection presents clothing covered in album art and lyrics from the band Television, to the point where it's almost blinding. While it's easy to peg his use of art and lyrics from bands as lazy stealing, Takahashi does it so boldly and unabashedly that it comes across more fearless. One of the brand's most famous examples of playful borrowing from other art movements is encapsulated in his "Less but Better" season. A phrase used by German industrial designer Dieter Rams, "Less but Better" was minimalist, functional and modern. The clothes were a contemporary mixture of technical fabrics, leather detailing and outdoorsy patterns with labels like "laser cut pocket" and "vent holes" printed on them. Takahashi has also taken inspiration from The Sex Pistols, Kurt Cobain, The Jesus and Mary Chain, David Bowie, Michael Borremans and Bill Evans, to name a few.
Unfortunately, due to Japanese tariffs and Jun's popularity, Undercover pieces are generally very very expensive in the United States. I'm not asking you to save your money and go out to buy Undercover. For me, Undercover is a lot more interesting than it is something I'd wear on a day to day basis. I am more fascinated by the world of Undercover that Jun Takahashi has created and left for us to discover, and I hope you will find his story equally fascinating and worthy of discovery.
Feature image via