FW17: Aritzia's Latest Brands
As a lifelong Aritzia fan and shopaholic, my wallet and bank account cry as I write this post and curate some of my recent favorites from Aritzia's latest brand releases. Recently making my way to their new Chicago Flagship Store on Rush Street, I have noticed a couple new tags for brands I have yet to discover.
In the spirit of FW17 shopping sprees (and working extra shifts in the Reg to compensate for this), here are some of my favorite ~new releases~ from my favorite collective brand.
Sunday Best
This collection breeds preppy sophistication, drawing inspiration from much of the classic Wes Anderson films. As The Royal Tennenbaums will always be one of my favorite films, I am incredibly drawn to all elements of this collection. Mixing whimsical patterns with classic shapes, this collection is one of my favorites from Aritzia's newest releases. Shop the brand here.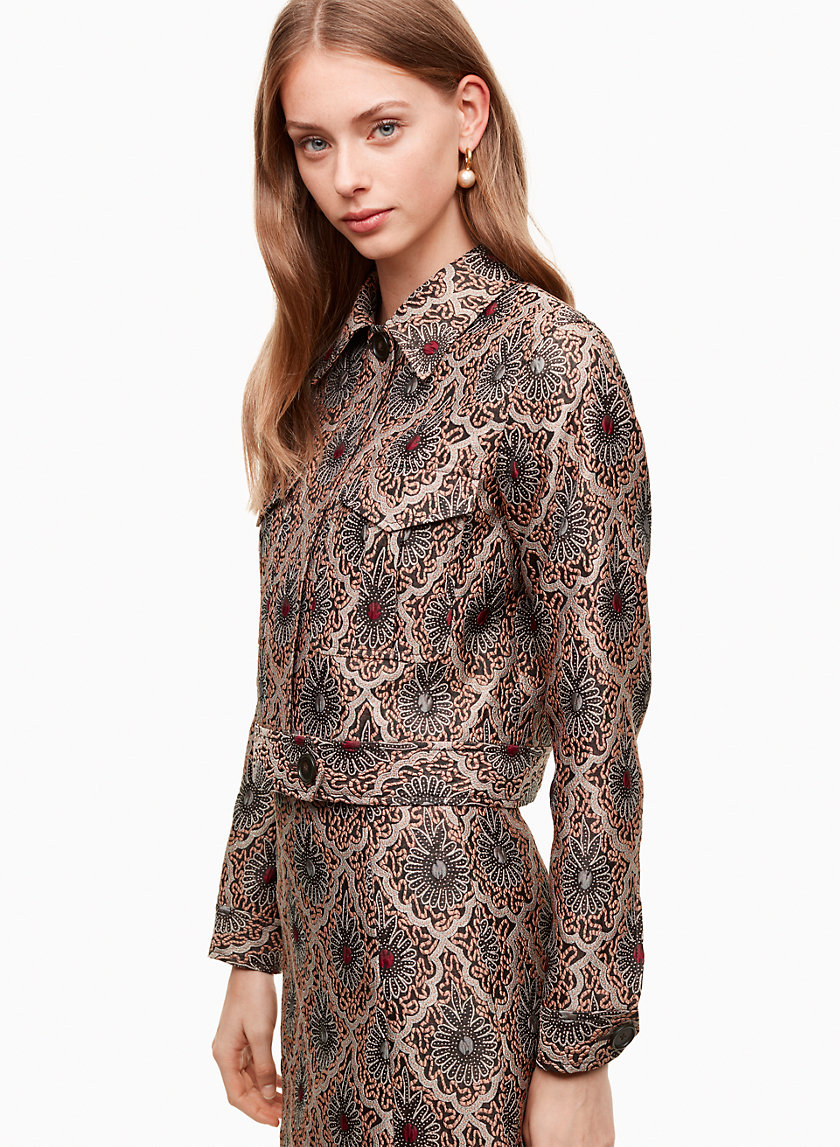 Cut from an elevated jacquard from one of Italy's finest mills, this jacket's floral pattern takes its cues from vintage-inspired wallpaper. A cropped silhouette and exaggerated front pockets play into the retro feel.
Shop here.
This shrunken tee is made with a cotton-modal jersey with a fluid drape - perfect for everyday wear. The custom graphic was designed by our in-house artist.
Shop here.
This dress is knit from a crepe yarn that contains no wool - making it ideal for sensitive skin. The contrast polo neckline and sleeve trim play into the prep inspiration.
Shop here.
Le Fou by Wilfred is a high end collection full of quality fabrics and much maroon and tan. Although a bit more pricy than the standard line, you will get your money's worth of silk and other luxe fabrics throughout this collection. I splurged on the following pants and could not be happier - perfect for mixing with a mesh shirt and sweater for the edgy grandma feel. Shop the brand here.
This limited-edition bag is made from a soft, supple leather. A removable, adjustable strap lets you go hands-free when you want.
Shop here.
These limited-edition trousers are made with luxe fabric from a premium Italian mill. The high-waisted fit and soft pleating make for an easy, flattering silhouette.
Shop here.
The Marinet is made with pure silk that's been washed for a vintage look and feel. The tie neckline is adjustable, and a flounce sleeve adds a bit of soft volume.
Shop here.
I think of The Constant as Aritzia meets Lulu Lemon, with a line of high fashion athleisure. All aspects are made from soft high quality fabrics, mixing a sense of fashionability with work out function. I would honestly wear these on the day to day, mixing sweatshirts with shorts, tights, and boots or a mesh workout top with edgy pants and statement shoes. Shop the brand here.
This stretch mesh longsleeve helps keep you comfortable and cool during workouts. Underarm gussets reduce friction while you're moving, and the custom print was designed in-house.
Shop here.
This cozy pullover is made from a merino wool blend that's lightweight and naturally odor resistant. A pointelle stitch on the front and back yoke provides extra ventilation where you need it most.
Shop here.
Strategic color blocking makes these high-rise leggings extra flattering. Super-soft fabric wicks sweat, and flatlocked seams reduce friction during workouts.
Shop here.
Little Moon features a whole bunch of floral and pale pastels, creating a girly chic collection of pieces. I view this as a bit of editorial meets function - with long flowing skirts and faux fur collars, you'll appear straight out of a magazine photoshoot on your way to class. Shop the brand here.
Soft and comfy, this pure cotton t-shirt has a relaxed silhouette and a hip-length hem. This version is embellished with custom embroidery made exclusively for Little Moon.
Shop here.
Perfect for layering, this collar is made with Real Faux Fur - our luxe vegan fur with an authentic look and feel. It's lined with pure silk that's smooth against the skin.
Shop here.
Cut from soft, vintage-inspired French terry, this pullover's subtle stripe details play up its retro-sport inspiration.
Shop here.
Featured image and all images and production descriptions via Aritzia.