Prof Style: Jia Kong
Note from the Editor: Welcome to MODA Blog's latest series, Prof Style! An expansion of our popular Quad Style series, Prof Style investigates the sartorial preferences and personalities that define our multifaceted graduate student and professor population at UChicago.
Meet Jia (Hana) Kong, a third-year math graduate student from Zhejiang, China. During her free time, she enjoys playing video games on her PS4, attending operas and concerts in Chicago, and drawing!
How would you describe your personal style?
I prefer wearing skirts or dresses instead of pants. The combinations I like most are jumper skirts and blouses or tops (T-shirts or sweaters or hoodies) and skirts. My friends often tell me I'm hard-core because I wear tights through the duration of the Chicago winters!
As for colors, I think grey is the safest color so I buy a lot of that. But all-grey can be a little bit dull. Light colors for spring and summer, warm colors for autumn, and dark colors for winter. Since Chicago winters are very very long, I have a lot of dark colored clothes in my closet. Most of them are wine/crimson/Chicago maroon. And wine goes well with navy, my favorite color combo.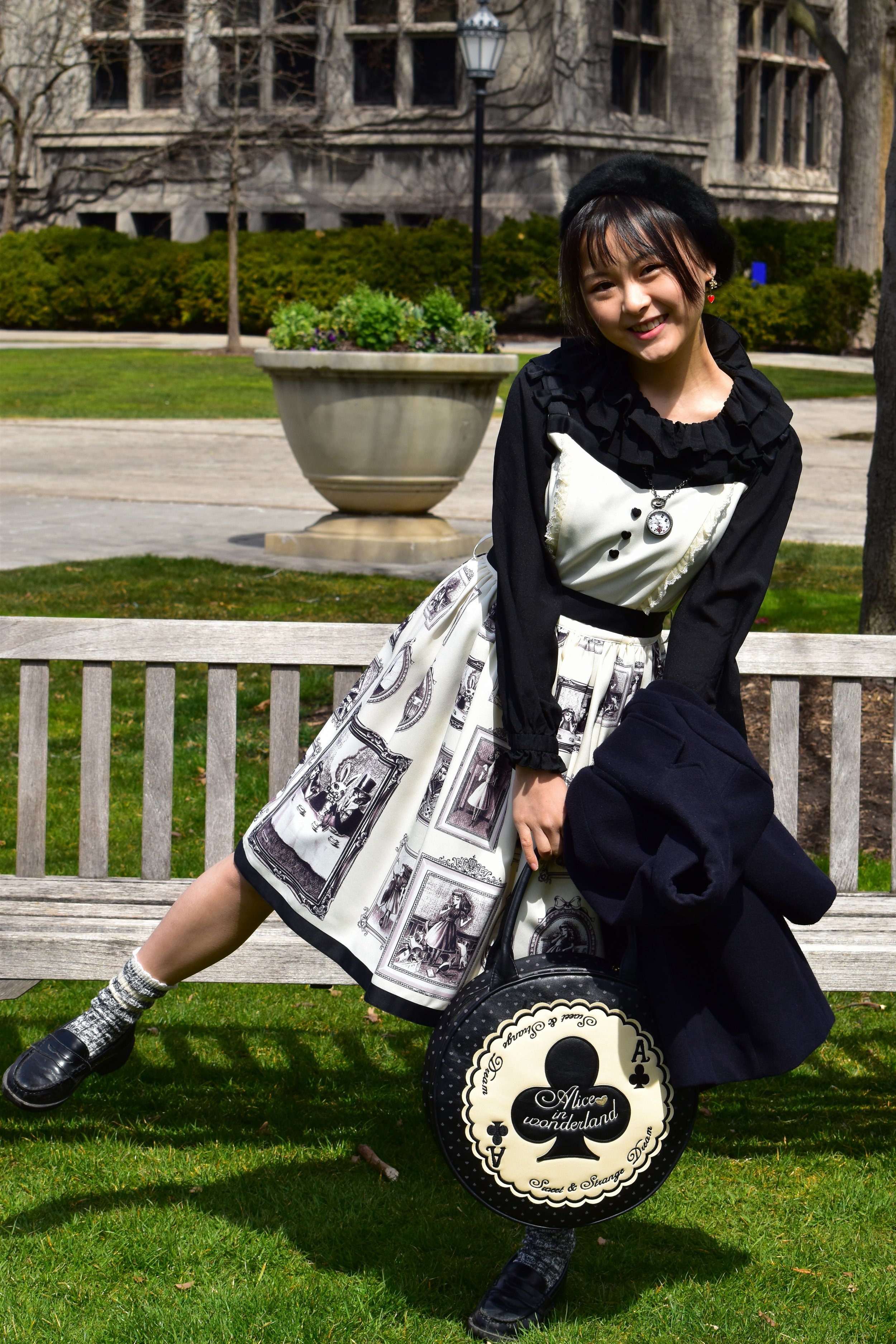 Where do you find style inspiration?
I like clothes and accessories which have prints about cats and other animals. I also like to buy (not necessarily wear) clothes and accessories whose themes are stories, like Alice in Wonderland (I like the book very much, and the author was a mathematician too!). I also get my inspiration from manga and illustrations. There are also some brands who have collaborations and I love to buy these because of their lovely prints (I'm looking forward to this year's Uniqlo X Sanrio collaboration, I love Cinnamoroll and Gudetama so much too!).
Where do you like to shop?
I got most of my clothes from Japanese & Chinese brands because of a suitable size, plus they can be a little more out of the ordinary.
Do you have any fashion regrets?
What I wore during my first year in my undergraduate life was over-the-top. At that time I had a lot of accessories on me, like braiding my hair with ribbons and then adding hair bows and clips on it. And to make my dress a good shape, I sometimes even wore an underskirt inside. Looking back, I think it was a little too much for daily outfits and inconvenient in crowded places (and expensive, since I kept losing the accessories and buying new ones!). It's not really a fashion regret. I still wear underskirts and do ribbon braid sometimes, for example for a photo shoot, but I do not do that in daily outfits anymore.
What is your relationship to fashion? Has it changed over time?
Fashion is one of my interests. I like to think about fashion, discuss fashion with friends and read fashion magazines during my spare time. I also make money out of it. I did a part-time job as a model for an individual owned brand. I also tried to design dresses and sell them during my college, though it failed halfway.
What does fashion mean to you?
I don't know who said this, but I have read something that said, "Life is too short to wear boring clothes". Thinking about how to dress myself is one of my interests, and it makes me happy.
What is your favorite current trend?
I'm now very into oversized clothes. It suits me and the clothes are easy to purchase and, if needed, easy to resell. I also like Japanese street fashion. It is too much for an everyday look but I like to put something with a Japanese street flavor into a casual outfit (like loose socks, lace-trimmed blouse, brooches etc).
What is the most important part of any look?
When I dress myself, I care a lot about the accessories and some other details. By accessories I don't only mean earrings or necklaces, but also shoes, berets, hats, bags or even umbrellas. I like to wear them accordingly to make the outfit a real outfit.
All images courtesy of Ashely Mao.