5 Ways to Spend Summer in Chicago
Whether you're excited to spend summer in Chicago or if you're a little bummed to not be going home, you have the great opportunity to explore parts of the city you didn't get to during the busy school year. So for those of you staying here this summer, I've compiled a list of fun things to do in the city (but you're a quick Google search from tons more!).
A Summer festival staple, Lollapalooza is one the most exciting events to hit Chicago this summer. Boasting a four-day long circuit in Grant Park with acts like Childish Gambino, the Chainsmokers and Ariana Grande, we can guarantee that Lollapalooza will rock your summer to the fullest. Click here to get tickets
Image via
Another major music fest, Pitchfork features a three-day lineup of stars from Rico Nasty to Charli XCX. The event - hosted annually in Union Park also features an excellent records sale and a huge array of food and art from across the country. Click here to get tickets
Image via
Chicago Food Truck Festival (June 22-23)
If you're a bit of a foodie, you'll definitely want to check out Chicago's Food Truck fest between 1800 & 1600 S Wabash Ave. It's exactly what it sounds like, and an awesome way to spend the day with a fellow foodie friend. (Also available: vegan food festival on June 22)
Image via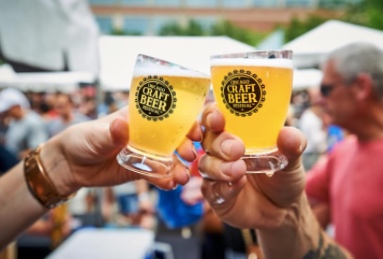 Chicago Craft Beer Festival (July 20-21)
For the beer connoisseurs out there, Chicago's Craft Beer Festival is your playground. Featuring over 70 different varieties of craft beer from across the US, with great music and company on the side, the Craft Beer Fest will definitely be something to cheer you up this summer.
Image via
Taste of Chicago (July 10-14)
Advertised as the world's largest food festival, Taste of Chicago is a Summer must to experience this year. Not only does it present five days of mouth watering delectables, but its reputation has attracted the reception of huge musical acts. The best recipe for an amazing summer is always good food and good music.
Image via