MODA Blog Favorites: April 2019
After the end of a grueling month of p-sets, essays, and juggling who knows how many other responsibilities and obligations, MODA Blog brings you a refreshing list of favorites from our bloggers and photographers to fill you with inspiration and energy for the next month.
¿Téo? (Mateo Arias) dropped his freshman namesake album last year and it provides the perfect backdrop to any summer/spring themed playlist. "Thru My Hair," "Part of Me" and "Belong in the Sun" (feat. Lido) are personal favorites and seamlessly showcase the artist's trademark medley of Bossa-Nova, Hip-Hop and Alternative genres. "Uno Dos" featuring frequent collaborator and friend Jaden Smith is also a bop. Listen to him on Spotify or Soundcloud.
Located right next door to Pilsen favorite Dusek's, Knee Deep Vintage is your new all stop shop for anything from authentic Japanese kimonos to perfectly worn-in camp t-shirts, vintage Levis and amazing 70s era summer frocks. The owners update inventory daily, so you're bound to find something new and exciting every time. If you're still in the mood for great finds, continue down 18th St. for Shady Rest Vintage and Vinyl, Very Best Vintage and Pilsen Vintage.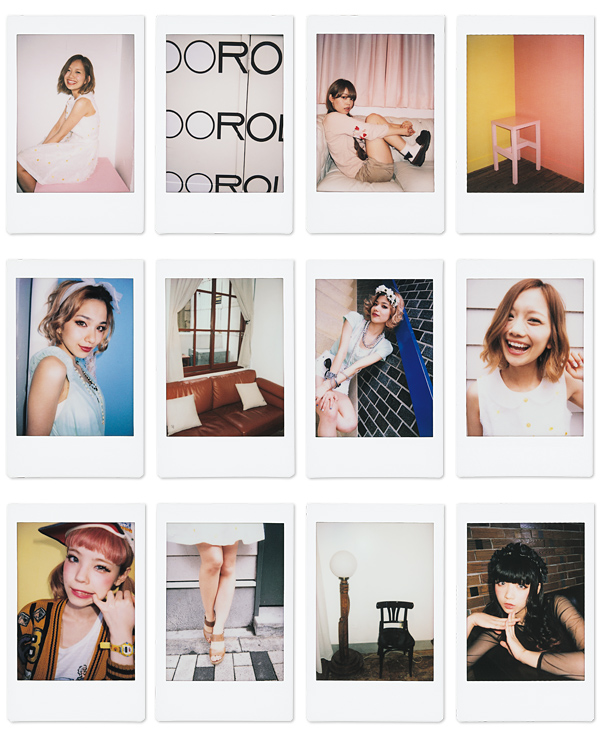 Looking to spice up your Instagram feed or save money on Polaroid film? Download NOMO (free on the App Store last time I checked) and start capturing Polaroid-worthy moments instantly. NOMO frames all of your photos with an authentic looking white border and even washes everyone's features out just like the real thing! For added fidelity, you can shake your phone to make the photo "develop" faster. Once it's finished, the photo saves automatically to your camera roll. What's not to love??
Carly Rae Jepsen is back! I've always loved Carly's poppy dance beats but I think what we're starting to see in the songs she's released off of her new album, Dedicated, is that she's become quite the skilled lyricist as well. This is kind of a fake favorite since the album hasn't officially dropped yet, but CRJ is being very very cheeky and dropping individual songs off the album for our listening pleasure and let me just say, I am OBSESSED with every single she's dropped. She's released four as of now, and I would be completely happy if the album was just the four, they have that signature uplifting, light beat with a really joyful vibe that I adore from Carly. I can't wait to here the rest when the album drops on May 17th.
Anastasia Beverly Hills DipBrow Gel
When it comes to makeup, I try to keep my routine as quick and efficient as possible, and now that it's spring, I really don't want to layer too much product on to my face. I found that recently, my main priority has just been making sure that my brows are all filled in before leaving the house, and thankfully, ABH's DIPBROW gel has been a big hit in my routine. I definitely like a more natural looking brow that doesn't have a very harsh arch or angular shape, so I find myself being a little bit more light-handed and sparing with the product. I think brow gel is probably the most efficient way to elevate a natural makeup look, so it's perfect if you're really on-the-go or if you're just getting into makeup like me.
It might sound nerdy, but one of the things that got me really interested in fashion when I was a kid was actually anime. Both realms really take into account the formulation of characters through visual signs, and often make commentary on the world around us through implicit visual details. One of the first animes I ever watched was Akitaro Daichi's anime rendition of the popular Shoujo manga, Fruits Basket. It's a bit of a strange series that combines slice of life with Chinese mythology, but I remember thinking it was both hilarious and captivating as a child. Recently, Funimation announced a reboot of the popular series and it does not disappoint. It's the same kind of childlike humour, but with something almost nostalgic about it. I definitely think the reboot appeals to fans of the original show, while still being fresh and relevant for a new, modern audience. I can't wait to see how the show unfolds.
MARINA finally released both halves pf her fourth album this month and it is definitely worth your time. You can read my review for "Love" here. The follow-up review for "Fear" is on the MODA blog as well, so check it out!
This new Netflix mini-series follows a gay twenty-something with Cerebral Palsy navigating social and work-life in LA. It is only seven fifteen- minute episodes so you can watch the entire thing in about two-hours, and it is quite funny. The editor of the blog the main character works at is named Olivia so definitely some MODA parallels…
I got this game on a Thursday, and literally couldn't put it down until I beat the campaign that Sunday. It is an RPG from the studio Image and Form who are famous for their steampunk aesthetic games. They somehow managed to make a game about medieval steampunk robots and the writing+characters are incredibly well done. The combat is actually a card game which is an interesting spin on traditional turn-based RPGs, and it is for sure worth your time.
Feature image collage photos via.