4 Simple Day-to-Night Hairstyles
When transitioning from a hectic school or work day to a fun night in the city, thinking about getting ready can seem like a daunting, maybe even impossible task. Your whole wardrobe seems to relocate itself from the closet to the floor as you try to find the perfect outfit. Makeup and jewelry now occupy every square inch of the little counter space you have. In the middle of chaos and endless choices, the last thing you want to deal with is attempting to tame your wild, tangled hair. So, save yourself some time and heartache with one of these simple hairstyles that will take you from class to dinner, and beyond!
Half-Up, Half-Down
Start with either straight or loosely waved hair.
Tease hair slightly at top of head to create volume.
Take a small section of hair from left side of your hair near hairline, and gently twist towards back of head about 2/3 of the way to other side. Secure with bobby.
Repeat on right side of hair. Make sure the twisted sections overlap to hide the bobby pins.
Add more pins as needed for security. Spray with hairspray if desired.
Messy Side Braid
Depending on hair type and preference, use texturizing spray to create volume or shining spray to tame hair.
Pull hair to either side, and begin to braid. While braiding try leaving a few pieces out. At the end secure braid, and gently loosen braid with fingers.
Spray with hairspray.
To transition to night time, accessorize with hair clip or lacy ribbon for a more trendy look.
Gather your hair at the nape of your neck and create a low ponytail.
Take your thumb and index finger to create a hole right above the elastic of your ponytail.
Lift ponytail over the elastic into the hole, and pull the ponytail all the way through.
Grab the ponytail in two sections and tighten.
Optional: Create waves in ponytail using curling wand, and finger comb waves for a softer look. Straighten ponytail for sleek look.
Messy Bun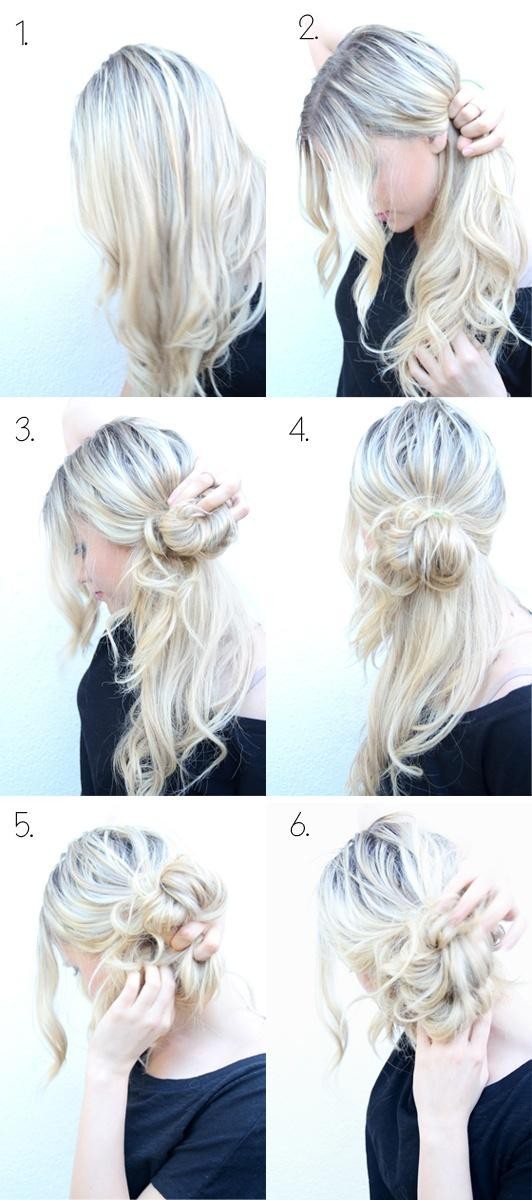 Sweep hair to desired side.
Separate hair into two sections horizontally, twist top section of hair into mini messy bun and secure.
Take bottom half of hair, and twist sections of bottom half of hair around bun in the top section until all hair is secured.
Tease out small pieces from the bun and hairline to create an effortless, relaxed look
Feature image via